U.S. Open and Women's Showcase 3-Day Prep Camp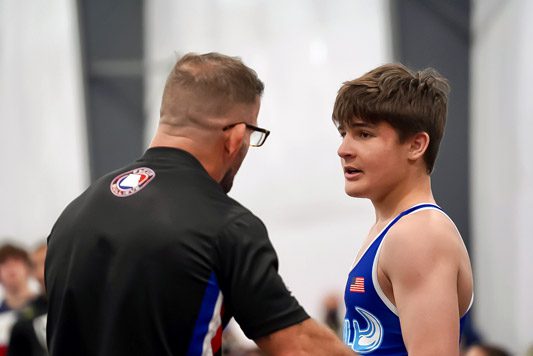 Get in the Best Shape Right Before the Big Tournaments
Over the course of three days, athletes will attend six training sessions.
This three day camp accepts male and female athletes who are preparing for the U.S. Open, The Women's Showcase or Freestyle State. Coach Henson's Olympic level Curriculum provides high level techniques, tactics, and mental preparation through his intense training sessions. His emphasis on controlling the center of the mat, high percentage takedown, transitions from takedown to turns, developing a counter offense, key details for top and bottom plus positional wrestling that creates opportunities for high amplitude throws.
Camp Goals + Outcomes
Improve your athlete's mindset and increase their ability to focus on wrestling with controlled intensity. They'll learn to wrestle till the whistle blows, never giving up.
Requirements & Expectations
Male athletes must commute to camp, overnight option available for females only.
Wrestling Gear (wrestling shoes, running shoes, head gear, knee pads, etc)
Notepad (for note taking during instruction, skills learned, etc)
Toiletries (towel, soap, shampoo, toothbrush/toothpaste)
Sleeping Bag, Pillow and an Air Mattress
Camp participants are required to have primary health insurance
Camp participants must have signed the Camp Release, Medical and Parent's Waiver forms (included in the form during checkout)
Camp participants must possess a USA Wrestling card, available on line at www.themat.com
Tentative Schedule
April 1st, Friday
5:00pm  – 6:00pm Check In @Bullpen

6:00pm – 7:30pm Session I

8:00pm – 9:00 Shower and Camp Store

10:00pm Lights Out
April 2nd, Saturday
9:15am  – 9:30am Breakfast
10:00am – 11:45am Session II
11:45am – 12:15pm Lunch
2:00pm – 3:45pm Session III
4:00pm – 4:30pm Dinner
6:00pm – 7:30pm Session IV
8:00pm – 9:00 Shower and Camp Store
10:00pm Lights Out
April 3rd, Sunday
9:15am  – 9:30am Breakfast
10:00am – 11:45am Session V
11:45am – 12:15pm Lunch
12:15pm – 1:45pm Session VI
1:45pm – 2:00pm Depart Camp
Food + Accommodations
Military Style Accommodations – Wrestlers will sleep on the mat.
Showers are located at The BullPen
Showering is required after every session
Washer and Dryer will be available for use
3 Meals per day are provided for all overnight campers. Athletes are welcome to bring their own snacks and water bottles.
* Commuters must bring their own food
Gym Location
14633 N Ricketts Road Hallsville Missouri 65255
      Parents + Coaches
Parents and coaches are encouraged to attend last session.
During camp we do not allow parents to attend sessions as we want wrestlers to not have anyone looking over their shoulders! The goal is to learn how to compete on their own in a competitive environment.
Taking pictures during the sessions is allowed, but no video taping please.
Parents and coaches are welcome to watch live social media coverage of competition practices.
Blackshirt's attend free of charge. 
Commuter
(Males must commute, females are welcome to)
Browse Other Wrestling Camps