Bulltrained Season Kick-off Camp
Columbia, MO.
September 17-18, 2022
*Commuter Camp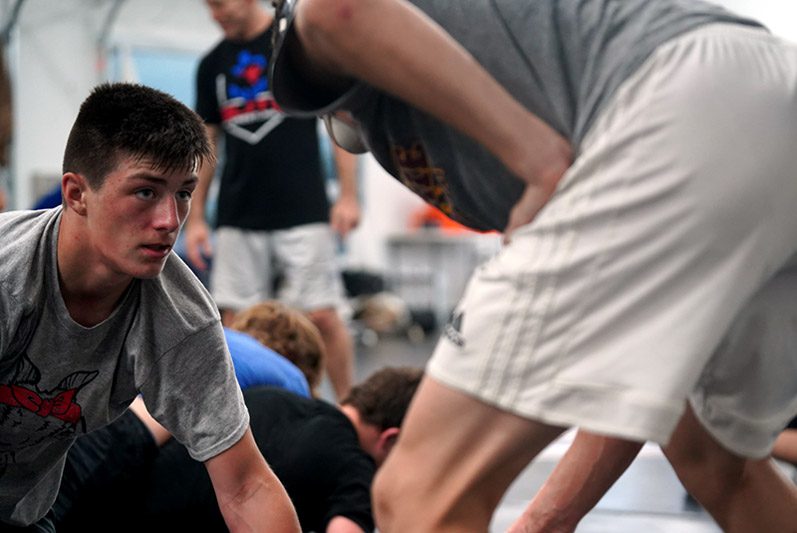 Season Kick-off Camp
One-on-One instruction and interactive sessions.
This Training Camp accepts wrestlers at any level. Coach Henson teaches a variety of position-based techniques and skills that are necessary to develop these athletes into champions. Coach Henson's One-on-One instruction and interactive sessions are a hallmark of the BullTrained Wrestling Camps. Henson believes through a positive attitude, mental toughness, technical enhancement and hard work, every wrestler can be the kind of champion they want to be.
CAMP GOALS + OUTCOMES
The first session of this camp is a new, free program we are implementing with the help of the OKUSA head official, Gary Hobbs. The "Officials Mentorship Program" is designed for athletes who are 15 years of age and older who are interested in becoming an official for the sport of wrestling.  This is a great way for athlete's to improve their wrestling knowledge and mat awareness, along with a great and convenient way to make an income without interfering with your athletes training. Gary will run a seminar teaching the needed skills that will create a successful official out of your athlete. After the seminar your athlete will register with MSHSAA and will take their officials test. After they pass, Gary will work to get your new wrestling official on the tournament schedule officiating. 
The rest of the sessions are for any wrestler of any age. Coach Henson will work to Improve your athlete's mindset and increase their ability to focus on wrestling with controlled intensity. They'll learn to wrestle till the whistle blows, never giving up. He will provide high level technique that will help your athlete become dominate in positional wrestling by making world level adjustments that he learned directly through his training and Olympic level competitions. 
REQUIREMENTS & EXPECTATIONS
Wrestling Gear (wrestling shoes, running shoes, head gear, knee pads, etc)
Chrome book or laptop to take their Official's test.
The use of a credit or debit card to pay the $65.00 fee for the officials test.
You must be 15 years or older to take the test.
You do not have to attend the rest of the camp to attend the Officials Clinic.
Athletes of any age or gender are welcome to attend the camp and do not have to attend the officials clinic.
Notepad (for note taking during instruction, skills learned, etc)
Sack Lunch (food may not be available for purchase at camp venues)
Cash (for use in Camp Store)
Camp participants are required to have primary health insurance
Camp participants must have signed the Camp Release, Medical and Parent's Waiver forms (included in the form during checkout)
Camp participants must possess a USA Wrestling card, available on line at www.themat.com
Schedule
September 17
9:00 – 10:30am Officials Mentorship Program
10:30am – 11:30am Officials Testing
September 18 
10:00am – 12:00pm Wrestling Session I
1:30pm – 3:15pm Wrestling Session II
4:15PM – 6:00pm Wrestling Session III
Food + Accommodations
This is a commuter camp only and food or accommodations will not be provided by the camp. Please bring your own lunch and snacks for each day.
Gym Location
The Bull Pen
7325 N. RTE Z
Columbia, MO. 65203
Travel Plans
All travel arrangements need to be coordinated by the parents.
      Parents + Coaches
Parents and coaches are encouraged to attend last session.
During camp we do not allow parents to attend sessions as we want wrestlers to not have anyone looking over their shoulders! The goal is to learn how to compete on their own in a competitive environment.
Taking pictures during the sessions is allowed, but no video taping please.
Parents and coaches are welcome to watch live social media coverage of competition practices.