BullTrained
Dirty Dozen 12-Day Wrestling Camp –
Toughest Camp In America
Columbia, Missouri
June 18th – 29th, 2024
This camp has sold out for 3 years in a row….. Sign up today to secure your spot! Payment plans available.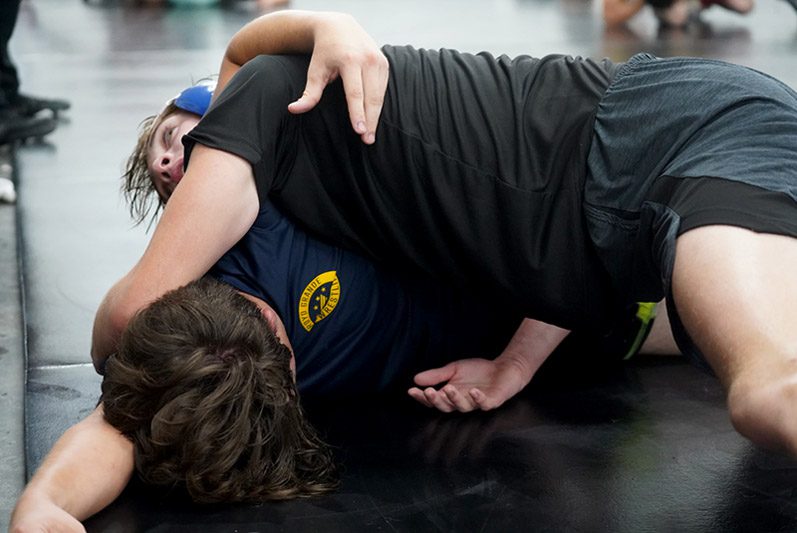 Toughest Camp In America
12 Days: Raise wrestling IQ and gain "The Bull" Mentality to be part of the 1%
Geared toward individuals that are looking for quality technique, intense drills, and competition.  It is our hope that by doing this we will ensure that every wrestler is getting the opportunity to challenge themselves in Coach Henson championship training system i (i.e. technique, tactics, running, drilling etc.) and live matches.
There will be a strong focus on teaching each wrestler how to excel at the next level through proper techniques and college style training. Wrestlers will have the chance of a lifetime to train with Coach Sammie Henson (Olympian and World Champion) and his elite support staff 24/7. Our goal is to prepare these young men and women to achieve great things on the mat as well as understand a mentality that will last a lifetime off the mat. The day will be broken up with fast-paced technique sessions, drills, skills, and live matches.
Camp Goals + Outcomes
Two or three Groups of 12 competing/challenging each other to the reach the next level. Coach Sammie Henson will teach all session with the support of the other two coaches breaking it down to assure the one on one experience. This is a highly competitive environment.
We have availability for eight girls to stay in the main house with our designated team mom and attend camp. They will compete with the boys and be placed in one of the three groups but they will be supervised by our team mom.
Requirements & Expectations
Female athletes must commute to camp, overnight option available for males only.
Wrestling Gear (wrestling shoes, running shoes, head gear, knee pads, etc)
Notepad (for note taking during instruction, skills learned, etc)
Toiletries (towel, soap, shampoo, toothbrush/toothpaste)
Sleeping Bag, Pillow and an Air Mattress
Camp participants are required to have primary health insurance
Camp participants must have signed the Camp Release, Medical and Parent's Waiver forms (included in the form during checkout)
Camp participants must possess a USA Wrestling card, available on line at www.themat.com
Schedule
June 18th, Tuesday
5:30pm – 6:00pm – Check In
6:00pm – 7:30pm – Session I
9:30pm – Camp Store
10:30pm – Lights Out
June 19th  – 28th
(Every 4th Day will include an activity session in the afternoon)
9:30am – Breakfast
10:30am – 12:15pm

 – Session I

12:15pm – Lunch
2:30pm – 3:45pm – Session II
3:45pm – Refuel
4:15pm – 5:30pm – Session III

5:30pm

– Dinner
6:00pm

– Free Time / Camp Store

10:00pm – Lights Out
June 29th, Saturday
9:00AM – 10:30AM – Breakfast Celebration! Live Wrestling Session *Parents encouraged to attend this final session to witness the gains of their wrestler IQ in the sport of wrestling as well as the Bull Mentality.
11:00am – Check out – Depart
Food + Accommodations
Military Style Accommodations – Wrestlers will sleep on the mat.
We have 11 Beds available in 2024. Seven beds are a full sized, Four beds are twin. The First 11 Dirty30 athletes to sign up get beds to sleep in. Please bring your own sheets and pillows. (you can have items delivered to the Bullpen.)
Showers are located at The BullPen
Showering is required after every session
Washer and Dryer will be available for use
3 Meals per day are provided for all overnight campers.
Athletes are welcome to bring their own snacks and water bottles.
We have a pond on 10 acres with great fishing, you can ship fishing poles!
Bring Swim Suites
Camp store will have gear, food and drinks for sale. Please have your athletes bring cash or a prepaid credit card to make purchases.
* Commuters must bring their own food.
Gym Location
The Bullpen:
9105 N. Creekland Dr
Columbia, MO. 65202
Travel Plans
Dirty Dozen Wrestlers Flight Plans – Booking a flight with the following dates, location will ensure that your wrestler will arrive to camp safely and on time. Please also note that we do not accept check-ins the day before camp starts.
The following flight departure times are mandatory. If you have a special circumstance that requires an earlier flight, you must call us for approval at 805.286.1110.
Arrival
Flights should arrive to STL airport on the day of check-in.
Check in is at 5:30pm June 18th, 2024.
Departure
Flights should depart from STL airport on the day of check-out.
Camp is over at 11:00am on June 29th, 2024.
We offer shuttles service from STL TO Columbia Airport Round Trip. Must coordinate with us per above arrival times and departures times. We offer personal shuttle for athletes for an $75 (must email to discuss arrival/departure time)
If flying to St. Louis International, you will need to book a shuttle on MO-X., #1 Shuttle Serving the St. Louis Airport. Check the website or call MOX at 573.256.1991 for updated pricing and detailed information
      Parents + Coaches
Parents and coaches are encouraged to attend last session.
During camp we do not allow parents to attend sessions as we want wrestlers to not have anyone looking over their shoulders! The goal is to learn how to compete on their own in a competitive environment.
Taking pictures during the sessions is allowed, but no video taping please.
Parents and coaches are welcome to watch live social media coverage of competition practices. 
Camp spots are limited, there are no refunds.
Team Member Cost
Pay In Full
OR:
Five $395 Installments
automatically withdrawn from your account every month during the payment period. The first payment is considered a deposit and is nonrefundable.
Non-Team Member Cost
Pay in Full

OR:

Five $455 Installments.

automatically withdrawn from your account every month during the payment period. The first payment is considered a deposit and is nonrefundable.
Browse Other Wrestling Camps