Exclusive Team Camp and tournament
Columbia, Missouri
June 15-18, 2023
*Only 6 Teams, there are currently 4 signed up for 2023!*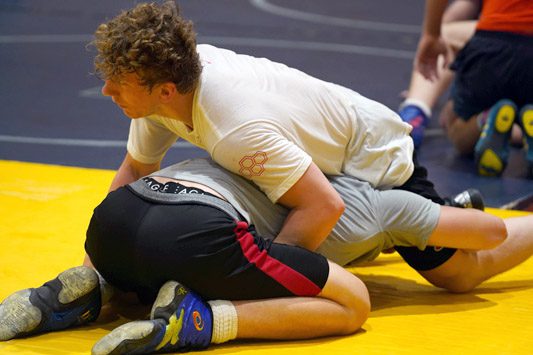 Developing Athletes and Coaches
Limited to 6 Teams – 15 Wrestlers Minimum per team.
The Exclusive Team Training Camp was built specifically for high School programs. Coach Sammie Henson wants to help develop not only athletes, but coaches who wish to learn a variety of high level position-based techniques and skills that are necessary to develop wrestlers into champions. Henson's 71-0 college career and experience coaching several Division 1 programs has helped to build his One-one instruction and interactive sessions. Camp curriculum includes advanced wrestling techniques and mental preparedness, character development and more. Coach Henson believes through a positive attitude, mental toughness, technical enhancement and hard work, every wrestler can be the kind of champion they want to be.
Contact BullTrained for more information on the camp and acommodations.
Camp Goals + Outcomes
Improve your athlete's mindset and increase their ability to focus on wrestling with controlled intensity. They'll learn to wrestle till the whistle blows, never giving up.
Requirements
Wrestling Gear (wrestling shoes, running shoes, head gear, knee pads, etc)
Notepad (for note taking during instruction, skills learned, etc)
Toiletries (towel, soap, shampoo, toothbrush/toothpaste)
Sleeping Bag, Pillow and an Air Mattress
Camp participants are required to have primary health insurance
Camp participants must have signed the Camp Release, Medical and Parent's Waiver forms (included in the form during checkout)
Camp participants must possess a USA Wrestling card, available on line at www.themat.com
Schedule
June 15, Thursday
2:00pm – 3:00pm Teams Arrive Check In @Bullpen
3:00pm – 4:45pm Wrestling Session I
5:00pm – 5:30pm Dinner
6:30pm – 8:30pm Wrestling Session II
9:30pm – Camp Store Opens
10:30pm Lights Out
June 16, Friday & June 17, Saturday
8:00am – 8:30am Breakfast
9:00am – 10:30am Wrestling Session
11:30am – 12:00pm Lunch
2:00pm – 4:00pm Wrestling Session
5:30pm – 6:00pm Dinner
7:00pm – 8:30pm Wrestling Session
9:30pm – Camp Store Opens
10:30pm Lights Out
June 18, Sunday
8:00am – 8:30am Warm Up
9:00am – 10:30am Round Robin Tournament (Parents welcome to come)
Food + Accommodations
Military Style Accommodations – Wrestlers will sleep on the mat.
Showers are located at The BullPen
Showering is required after every session
Washer and Dryer will be available for use
3 Meals per day are provided for all overnight campers. Athletes are welcome to bring their own snacks and water bottles.
Camp store will have gear, food and drinks for sale. Please have your athletes bring cash or a prepaid credit card to make purchases.
* Commuters must bring their own food.
Gym Location
Columbia, MO.
New state of the art building breaking ground, address to be released by March 31st.
Travel Plans
All travel arrangements need to be coordinated by the parents.
Finger Lake State Park is only 1.25 miles from our beautiful facility that sits on 10 acres. Driving your RV or renting a camper will provide you as a parent a few days to relax and enjoy yourself while your child is at camp. We are also only 10 minutes from Columbia, MO where you can instead stay at a comfortable hotel and indulge in great food and shopping.
 Residence Inn Columbia
1100 Woodland Springs Court
Columbia, MO 65202
United States
Hampton Inn Columbia
3410 Clark Ln
Columbia, MO 65202
United States
 Fairfield Inn and Suites Columbia 
1115 Woodland Springs Ct
Columbia, MO 65202
United States
Parents + Coaches
Parents and coaches are encouraged to attend last session.
Two coaches per team allowed to attend all sessions.
During camp we do not allow parents to attend sessions as we want wrestlers to not have anyone looking over their shoulders! The goal is to learn how to compete on their own in a competitive environment.
Taking pictures during the sessions is allowed, but no video taping please.
Parents and coaches are welcome to watch live social media coverage of competition practices.
Team Deposit
*The deposit is non-refundable
Contact BullTrained to acquire full price of the camp or any additional information.
Browse Other Wrestling Camps